Christmas and holiday season is coming, and we're sure that you are thinking of planning the table decorations for your Christmas celebration. The answer to the perfect festive holiday table is purchasing the proper accents and statement pieces in advance, so you'd be ready to make a classy and cheerful table when the entire family and guests come visiting or when you log in to Zoom or Skype. 
Preparing your holiday table must bring out the fun and spirit of the season. Setting the table should not be costly, complicated, or time-consuming. However, when it comes to Christmas tables, it's not just the Christmas dinnerware, candleholders, placemats, and silverware that should take the spotlight. It's also about the company and conversation that should be also exciting. Amazingly, just your gorgeous Christmas table alone already is a conversation starter that can spark some memorable moments with your family and guests. 
Here is a list of table setting ideas we've compiled for you for the upcoming holiday season: 
1. Christmas Tree Origami Napkins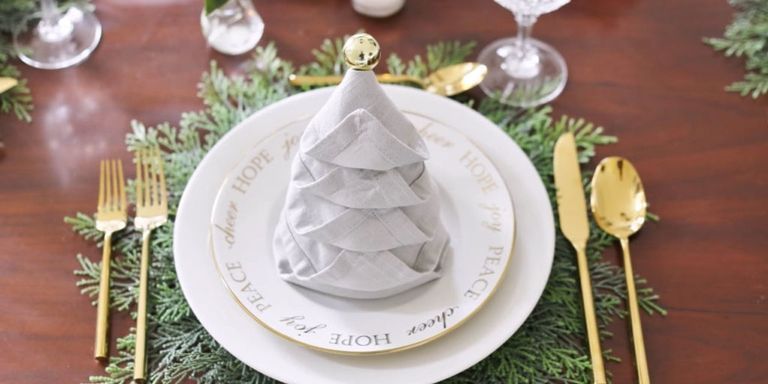 This is very easy and if you know how to do origami, you can turn your napkin into a Christmas tree to add a quick amount of holiday joy. It's recommended for last-minute decorations! 
2. Christmas Light Napkin Rings 
Don't be so fast to dispose of your useless Christmas bulbs in the trash. Think of transforming them into merry napkin rings instead! All you need to do is to place a loop of white and red baker's string at the bottom of each bulb using hot glue. After that, tie your new designs around colourful rolled napkins. 
3. Tall Red Candlesticks 
If you have red velvet dining chairs along with hanging ornaments above your dining table, candlesticks galore would be a great idea. With the help of huge red candlesticks to your arrangement, it will illuminate your space. 
4. Festive Garland Runner 
The days are over for always depending on traditional cloth table runners. Christmas today should be more special by adorning your table with garland right down the centre. 
5. Felt Pine Forest Trees 
Want to turn your table into a captivating pine forest? It's very simple, just cut out fir shapes from the felt papers and stick them onto candle holders filled with faux snow using a hot-glue. 
6. Snowy England Plaid 
If you're looking for a different Christmas theme this 2020, you can opt for a snowy New England vibe by using several plaid throws as table clothes, ideally the old ones that can resist unavoidable spills. 
7. Pink Christmas 
Why not be pretty in pink this Christmas? Red and green are not the only colours you can work with for your Christmas table. Choose a nice soft pink table cloth matched with gold cutlery that provides homey and warm feels.
8. Christmas Peppermint
Take your guests to a candy cane lane dining experience! It's one of the best feels you can give your guests. To do this, have white table cloth paired with a striped table runner to win this charming and sweet setting. To add some extra touch, you can bend a twig of rosemary at the top to mimic a candy cane. 
9. Wreath Chandelier 
It's the perfect time to be creative with a new chandelier for Christmas. With the help of a ribbon and hook, you can hang the greens from the ceiling above your table. If you love the look but you are having a problem with your permanent light fixture, you may drape pine around the frame and secure with ribbon. 
10. Earthy Centerpiece 
Don't like designing that much but you want to have a nice centrepiece on your Christmas table? Opt for this five-minute centr0epiece since it's simple as stuffing a clear glass container with unshelled nuts, fake cranberries, pine cones, dried citrus, and cinnamon sticks. If you have a polished wood slice, be sure to centre it, and the table is ready to go. 
11. Embellished Chairs 
You don't want to forget your chairs! They deserved to be adorned. You can tie mini wreaths to your chair frames with raw-edge ribbon will have every person at the table feel as if they're the guest of honour. 
12. Pile of Presents 
Christmas gifts need not be under the tree always. You can display your most awesome wrapping paper on the dinner table. If you want, you can swap pink wrapping paper for the usual red colour to give a unique twist. The display should be filled out with homemade confetti-filled ornaments in synchronized colours. 
13. Reused Wine Bottles 
It's time to recycle those empty wine bottle you have on your shelf and get creative! Those wine bottles are ready to become holiday candleholders with added silvery wrapping paper and lavish green ribbons. 
14.  Winter Wonderland Theme 
It's always the perfect time to have a white Christmas at home, no matter what the weather is like. You may use little gingerbread houses, tiny marshmallows to make a snow-dusted setting and monochrome florals. Feel free to embellish the table with anything white to create a true winter wonderland experience. 
15. Additional Glitz 
If your Christmas tree has no more room for your ornaments and balls, you can pour them instead in a clear vase. Their glittery elements will bounce candlelight all over the place.